Neues Feature:

Wir haben die Portal Edit Funktion komplett überarbeitet, um euch noch mehr Möglichkeiten zur Individualisierung zu geben. Folgende Funktionen sind neu oder überarbeitet:

Die Edit Portal Funktion hat nun eine eigene Seite, was die Ladezeit des Portals verbessert.
Das Handling im Edit-Modus wurde durch die eigene Seite verbessert, da keine überflüssiger Content oder störende Scripte geladen werden.
Es ist nun möglich, die Grafiken des Standard Lettersets in der Größe zu verändern.
Es gibt ein neues Element: Untertitel das im Header eingebaut werden kann (z.B. Eine Gilde auf EU-Aegwynn )
Der Banner, das Logo und das Letterset können nun gleichzeitig angezeigt werden.
Alle Elemente des Headers lassen sich in der Größe und Position anpassen.
Ein Problem beim erneuten Speichern der Boxenpositionen, bei dem die Logo und Schriftpositionen verloren gingen, wurde behoben.
Es sind neue Schriftarten verfügbar.
Alle Elemente haben nun eine "RESET" Funktion
Das visuelle Feedback beim Verschieben wurde verbessert.
Es gibt nun die Möglichkeit, den Schatten beim den Schriften zu deaktivieren
Es gibt nun auch coole Texteffekte
Der Editmodus kann nun über den Button "Cancel" abgebrochen werden, ohne dass Änderungen gemacht werden
Es wird nun ein Ladebildschirm angezeigt, so lange die Webschriften geladen werden (Problem: "Click, click, click, tut sich nix...")
Die Farbauswahl wurde verbessert
Das gerade editierte Element wird hervorgehoben.
Viele weitere, kleine Verbesserungen und Neuerungen
Das Portal kann nun nur noch editiert werden, wenn man als Admin eingeloggt ist
Diese Änderung ist auch als Vorbereitung auf unsere komplett neuen Funktionen für die Gestaltung eurer Seiten. Damit ist es uns jetzt möglich, euch weitere Gestaltungsmöglichkeiten einzubauen. Weitere Optionen werden Folgen. :)
Verbesserungen/Bugfixes:

Schriftgröße in verschiedenen auf dem Nivine Template basierenden Styles korrigiert
Die Fonts API für die Header Schriftarten nun wird nur noch geladen, wenn auch eine Schriftart ausgewählt wurde
Album Ansicht verbessert.
Fehlende Klassenfarben und Images auf der DKP Statistikseite gefixt.
Ein Fehler in der Navigationsbearbeitung wurde behoben
Die Auswahl welche Links in der Navigation für wen angezeigt werden wurde überarbeitet
Ein als World of Warcraft Style getarnter Star Wars The old Republic Style erscheint nun korrekt in der SWTOR Auswahl
Eine fehlerhafte Verlinkung im Kontaktformular wurde behoben
Die Banner Vorschau im Adminbereich wird nun beim ersten Laden korrekt skaliert, und wird nun auch aktualisiert, wenn man die größe ändert.
Die Logoauswahl im Adminbereich wurde überarbeitet

World of Warcraft:
Überflüssigen Boss aus dem Bossprogress der Instanz Thron des Donners entfernt
Fehlende Instanzicons für Thron des Donners - Heroisch hinzugefügt
Neue Instanz Schlacht um Orgrimmar zum Bossprogress hinzugefügt
Instanzicons für die neue Instanz Schlacht um Orgrimmar hinzugefügt

Guild Wars 2:
Neue Forenicons hinzugefügt
Neue Rangicons hinzugefügt

Final Fantasy XIV A Realm Reborn:
Neue Forenicons hinzugefügt
Klassen wurden korrigiert
Klassenicons hinzugefügt
Neue Styles:
Neverwinter: Beauty and Death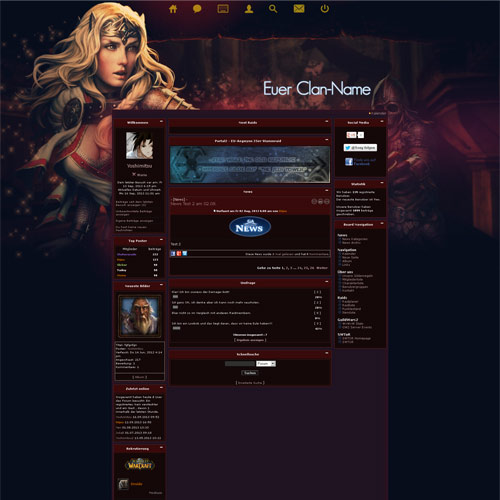 World of Warcraft: Siege of Orgrimmar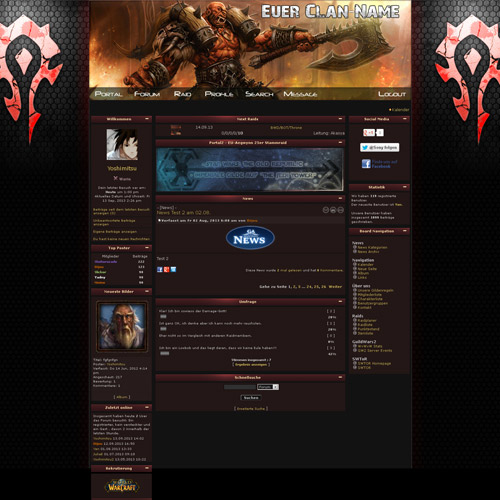 Pandaria VS Garrosh: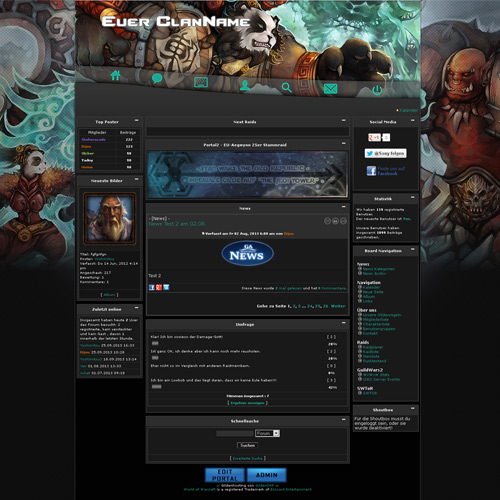 Runes of Magic: Dwarfs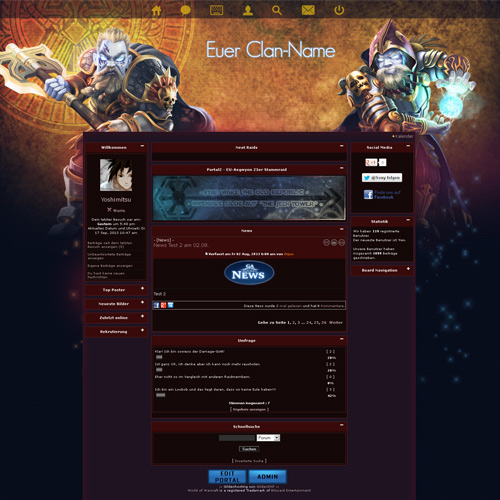 The Elder Scrolls Online: Rotation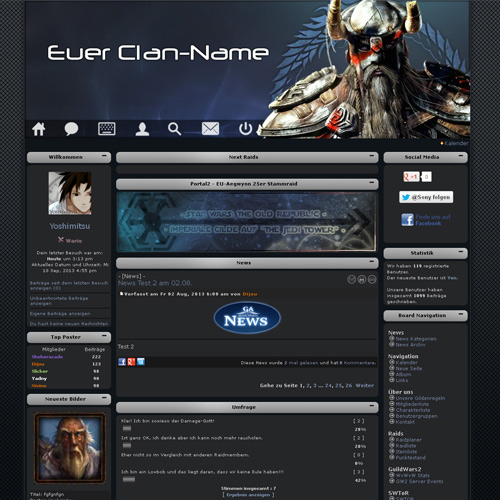 League of Legends: Invaderdinger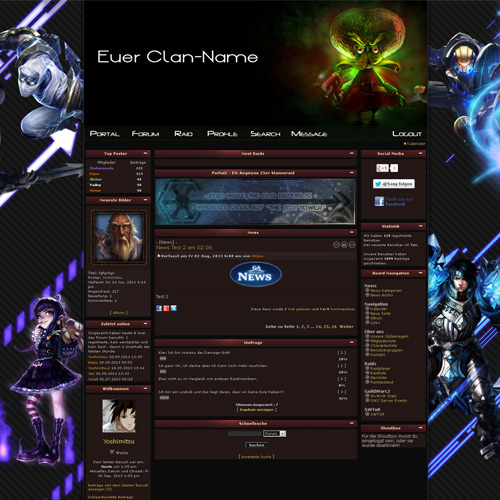 Ihr findet die Patchnotes auch wie immer in unserer Wissensdatenbank auf
www.gildendkp.de